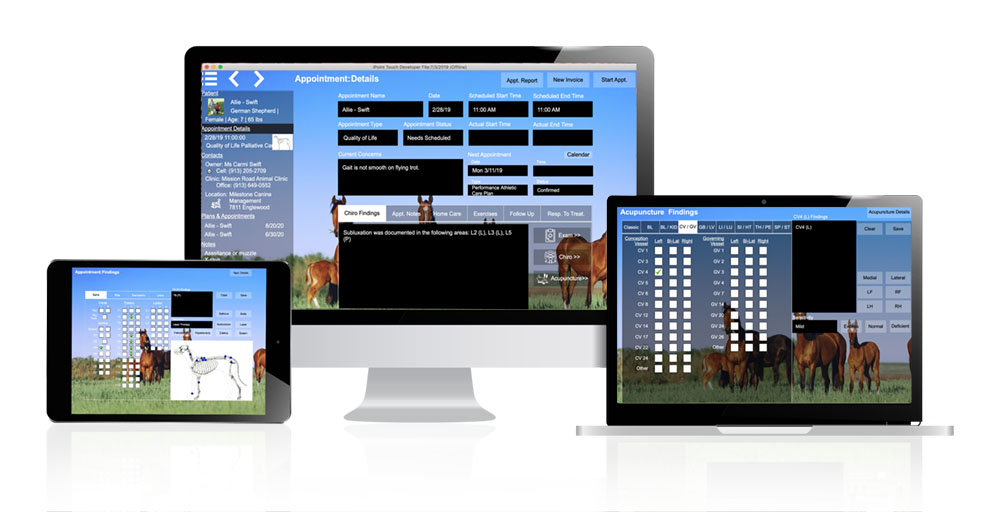 The 60-Day Money Back Guarantee
Monthly Care and Support
One Fee for Everything: $127/month
What's Included in
i
Point
Touch
EHR
Integrative Modalities & Therapies: Acupuncture, TCVM, Chiropractic, Acupressure, Laser, Tui Na, Food Recommendations, and Herbal Therapy.
Exercises, Videos & Home Care Instructions
Color Coded Multi-User/Status Calendar
Integrated Appointment Scheduling
Treatment Plans
Invoicing & Receipts
Financial Reports

Unlimited Patients

&

Unlimited Visit Sessions

Multiple Users

[Customized Features for Multiple Users]
No Wi-Fi

Connection Needed In The Field

Complete

Practice Data Available in

Off-Line Mode

Live

Unlimited

Training and Technical

Support

All Perpetual Server and FileMaker Software Licensing Fee's

Unlimited

Cloud-Based Server Management and Data Storage
Installation on Multiple Devices (Mac, PC, iPad, iPhone)
All New Modality and Features Updates At No Additional Charge
Pay Month to Month –

No Contracts
System On-Boarding – Software Licensing – Personalized Training $297*

iPoint Touch EHR Core System
All Software Licensing with FileMaker
Assisted Data Migration from Your Current Management System to iPoint Touch EHR.
Personalized Step-by Step System Set Up And Customization
An iPoint Touch team member will guide you through a step-by-step training sessions to assure your system is set up specifically to meet your practice needs, and assuring you get maximized efficiency from your new EHR system!
*One Time Fee
There is no other offering like iPoint Touch EHR because it has all the benefits of "traditional" software, and "cloud-based" storage access wrapped up in an end-to-end complete solution.
And if for any reason during the first 60 days you decide iPoint Touch is not for you, we will immediately give you an Unconditional 100% Refund.
The 60-Day Money Back Guarantee
Yes we are serious! We want you fully trained and your system customized specifically to meet your practice profile. For that reason we offer a full 60-day 100% money back guarantee.
iPoint Touch is designed to start paying for itself right away. We are confident you will immediately see the value in the streamlined processes iPoint Touch EHR will infuse into your business.
Doctors who use iPoint Touch EHR see an average increase of revenue up to 17% – 20%. If your practice generates $100,000 in annual revenue, that's potentially an additional $20,000 boost. And the best part is the bigger you are, the bigger the impact iPoint Touch will make on your bottom line!
Why it is important to store your data off-site?
Off-site data protection, or vaulting, is the strategy of sending critical-data out of the main location (off the main site) as part of a disaster recovery plan. Sending backups to an off-site storage ensures there is a copy of pertinent data that isn't stored on-site. This is insurance for your historical data.
Why doctors and practitioners choose iPoint Touch EHR over "Cloud-Based" Only EHR systems?
Let us explain why.
When you sign up for a cloud-based only system, like our competitors practice software, you don't have an on-boarding and installation process onto your own computer. That is because you only have access to your Historical Data through their internet dependent server.
If you decide their solution no longer meets your needs, and you wish to stop paying their monthly fee, your data becomes unavailable to you. All you can do is download parts of your raw data into excel sheets; and you're "historical data" such, as patient reports and financials, are downloaded into PDF's. Yep, a huge time wasting task and now you have to figure out how to organize and manage all that data.
Conversely, if you purchased a traditional software, for example like one of those well known accounting softwares, then you have a local installation on your computer with all your data on your own hard drive. That's solves the first problem; however, because the traditional architecture is stored on your computer, the data ideally should also be secured and protected in an offsite location as well.
iPoint Touch EHR is Different Because – We're the best of both worlds!
With IPoint Touch EHR, you own the architectural software that resides on your hard drive as a complete useable system, and we offer the security of an off-site server for protection.
iPoint Touch EHR is a traditional software platform that you're purchasing licenses for, that's the up front $297 charge.
In addition, iPoint Touch EHR is built to deliver a cloud-server service, which means you can use it on PC, MAC, and your iOS mobile devices to access your complete practice data from anywhere without the need for a wifi signal. If is complete "off-line" system. Not a watered down app with only part of your data available viewable.
Also, due to its offline nature it works in lighting speed. This makes your appointment time efficient as you can enter data at lighting speed without a sluggish connection trying to connect to the internet or a web hosted site. No more waiting for the page to refresh so you can keep working.
Seeing Is Believing!
Take the First Step Today.
We are here to help and understand the solutions you need to build the business you want.
Schedule a free session to discuss the areas most challenging in your practice so we can offer solutions.