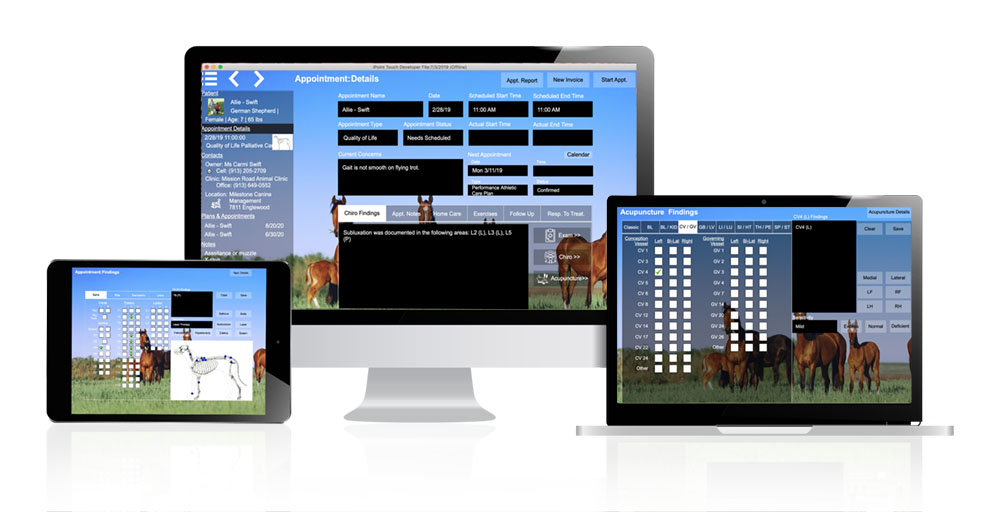 We Create Solutions for What Seems Impossible, So You Have a Thriving Practice and Can Live the Life You Envisioned!
iPoint Touch was founded on the desire to help integrative animal practitioners fulfill their passion to serve their animal patients.
"When I watched Dr. Emily tediously hand-write the document for Tate's treatment, I knew I could do something to help," says founder Carmi Swift.
After having chiropractic treatment suggested for her heart dog, Tate, Swift made an appointment with Dr. Emily McLeod, DC. "I was amazed at the results of Tate's treatment. I was at a loss to help him, and chiropractic gave him back to me with a quality of life for many more years than I expected."
As an entrepreneur, however, Swift saw the paperwork drain being put on the doctor who was helping her canine companion. "I had experienced the same thing in my Audio/Visual business, Home Connections of Greater Kansas City, where I felt the same frustration at having to give up time doing repetitive tasks that I could have been spending with my customers or my family."
Swift responded by approaching her son and business partner, Brooks, with a proposition to build a software for integrative animal practitioners that would give them back time, reduce stress and help them in their mission to help animals. "We had successfully created a product for the AV industry already — and I knew we could do the same thing here," she says.
The company has worked closely with practitioners in the field to develop a product and a system that is affordable, easy to learn, well supported, and constantly improving to meet the needs of the doctors and the industry.
iPoint Touch entered into research and beta testing in 2014 and the first version was released in 2015. It was met with enthusiasm and an incredible positive response. "When I saw what this software could really do to help the doctors, I knew we had to step up our game even more," says Swift. The company began developing an acupuncture module which phase one was released in 2019. The software is dynamic in design with several new features released in 2020. The company is currently working on an Equine Dental, CranioSacral, and Massage Therapy modules.
iPoint Touch doesn't stop at just providing good software. Swift and her son, Brooks, and the iPoint Touch team bring their entrepreneurial experience to the table to help their clients and the industry be more successful.
iPoint Touch has begun creating a library of webinars and videos that offer practitioners entrepreneurial strategy and knowledge. "I want to truly make a difference for the practitioners and the animals they serve," says Swift. "Being an entrepreneur is a learned skill — and the learning never stops. I am happy to share what I know and what I'm learning so we can all thrive."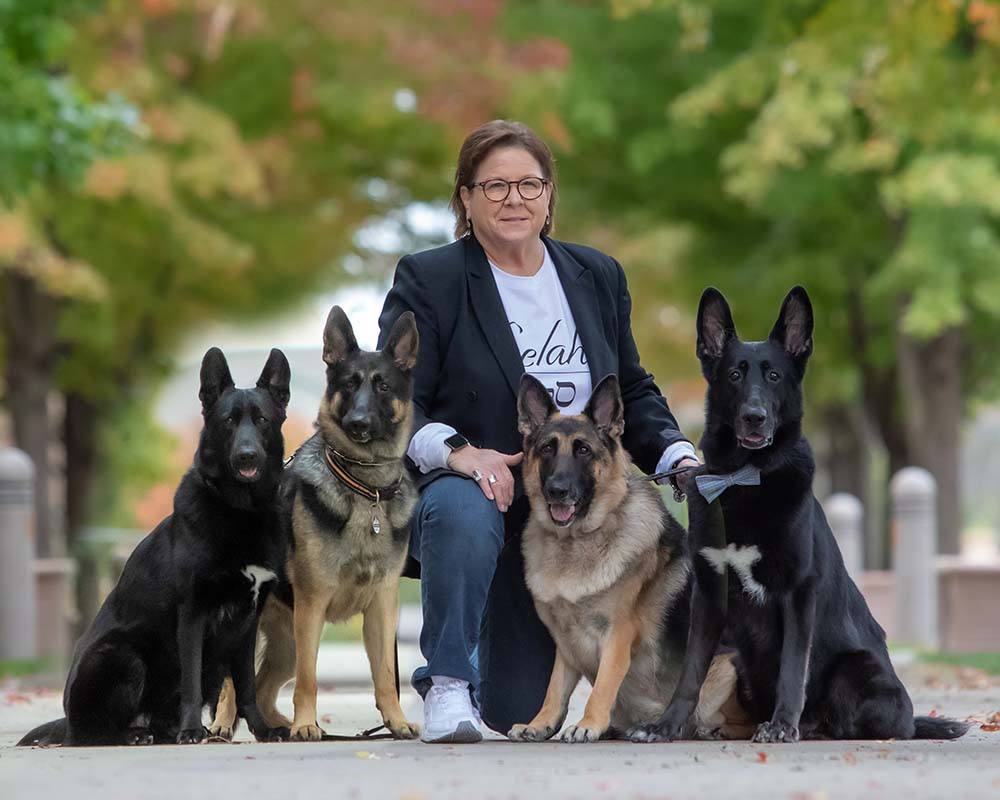 Carmi Swift
Founding Partner
Carmi Swift is a lifetime entrepreneur and animal lover. Carmi's unique ability to see solutions to entrepreneurial challenges has made her an outstanding ally to both the Audio/Visual Service Industry and Integrative Animal Practitioners. Carmi spent 10 years building a successful AV Service business that worked with residential and commercial contractors to supply the latest AV equipment and fulfill installation. Late nights doing paperwork after a full day of serving customers fired her desire to make her own life easier so she sought help from her son and business partner Brooks who had a background in programming. Together, they developed a software system that reduced the time needed for project management by eliminating repetitive tasks. The system they created for their own business made such a dramatic difference, Carmi and her son made a decision to package and resell it to help others in their industry. The resulting company, iPoint Solutions LLC, owned and operated by Brooks, is a software product now internationally successful with thousands of users.
When Carmi's dog Tate needed chiropractic care, she sought out a local practitioner and, during the appointment, her keen ability to solve problems kicked in as she watched the doctor hand write copious notes. She recognized in Dr Emily what she had seen in herself as the catalyst for the birth of iPoint Solutions. She approached Brooks about developing a software for Integrative Animal Practitioners and the rest, as they say, is history.
Today, Carmi is devoted to helping doctors provide the best care for their patients and do so efficiently with as little stress and repetition as possible. Carmi lives in the Kansas City metro with her pack of German Shepherd dogs and human family. In her spare time she enjoys dog showing, doing "projects around her home, and traveling to Marco Island, Fl to spend time with family.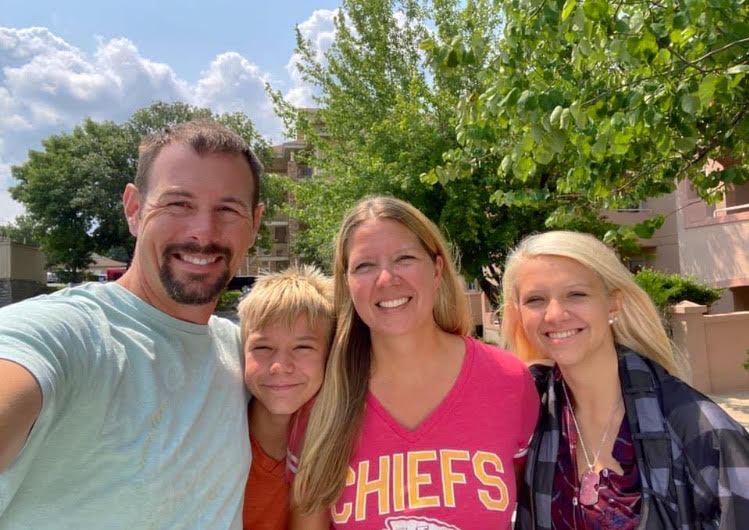 Brooks Swift
Founding Partner and CEO of iPoint Solutions
Founding Partner Brooks became an entrepreneur in 2001 at 22 years of age when he founded a low-voltage home theater company called Home Connections in Topeka, KS. In 2005 the company expanded to Kansas City, MO with a second store. To meet the need of organizing and managing the Home Connections staff, Brooks built the systematic business management software known today as iPoint Control. He quickly saw a global need for this solution amongst his peers in the audio/video industry. In 2014 he established his new company iPoint Solutions LLC to meet this need. iPoint Solutions has thousands of users in the US and globally and provides two software systems: iPoint Control for AV Industry and iPoint Touch EHR for the Integrative Veterinary Medicine practices.
When not working Brooks can be found playing his guitar, scuba diving, spear fishing, reading, hanging out with his beautiful wife Kelli and their children Zoie, Gavin as well as their Golden Retriever Covi Jake.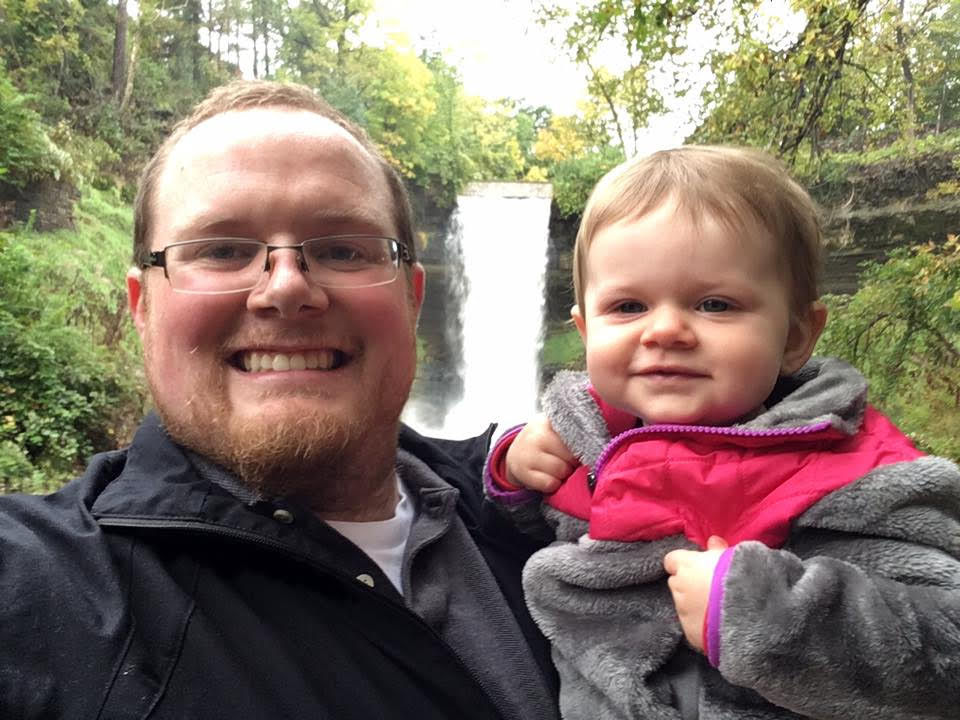 Rob Marks
Founding Partner and President at iPoint Solutions
Rob is a Utah native who moved to Minnesota where he met his future bride and embarked on a career in computer sciences. After a successful stint working in database management for the fund-raising arm of the University of Chicago, Rob found himself wanting to work more on the development side of his profession. Brooks found Rob's resume posted and hired him to work on iPoint Control. At the time, the software was still a concept, but Rob took the risk in joining the fresh start-up and hasn't looked back since. Rob has been largely responsible for the development of iPoint Touch since its beginning in 2015, building the software from the ground up. He has taken great interest in the docs and how they do their job, always striving to understand, and simplify, their tasks. Rob lives in the Minneapolis area with his lovely wife Bridget, and their two children Emily and Riley. Rob is a pretty serious snowboarder and is passing his love of the sport on to his children.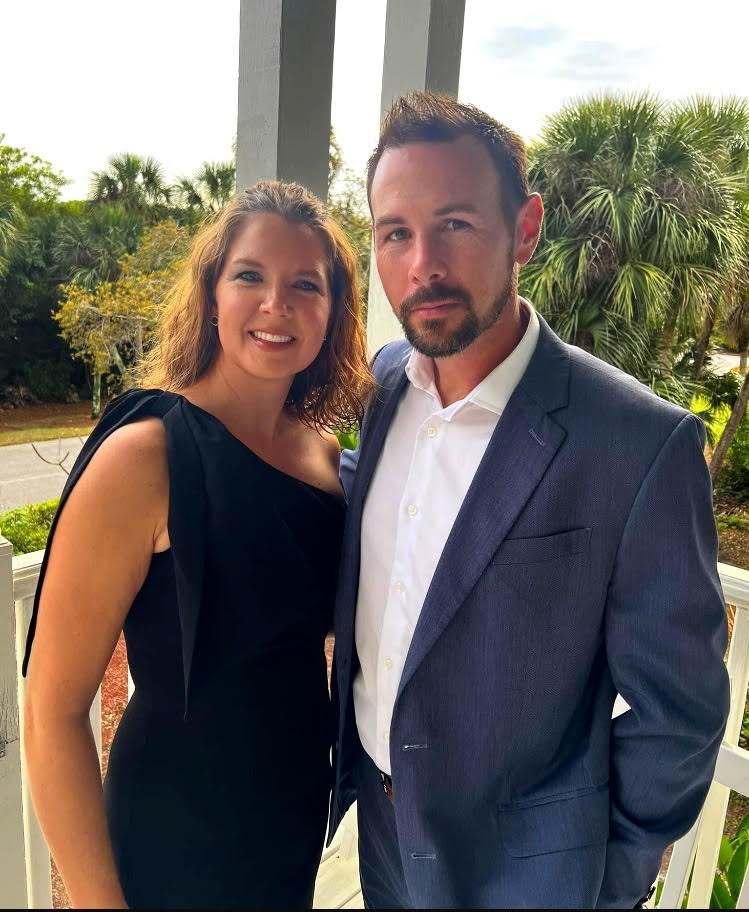 Kelli Swift
Accounting
Kelli is the quiet glue that keeps the books in order for the iPoint Solutions family. She also keeps the schedule for our CEO, Brooks Swift. When Kelli is not at her desk, she enjoys reading, a good glass of wine, enjoying the beach in Marco Island, FL and keeping track of their two children; Zoie and Gavin, as well as their Golden Retriever Covi Jake!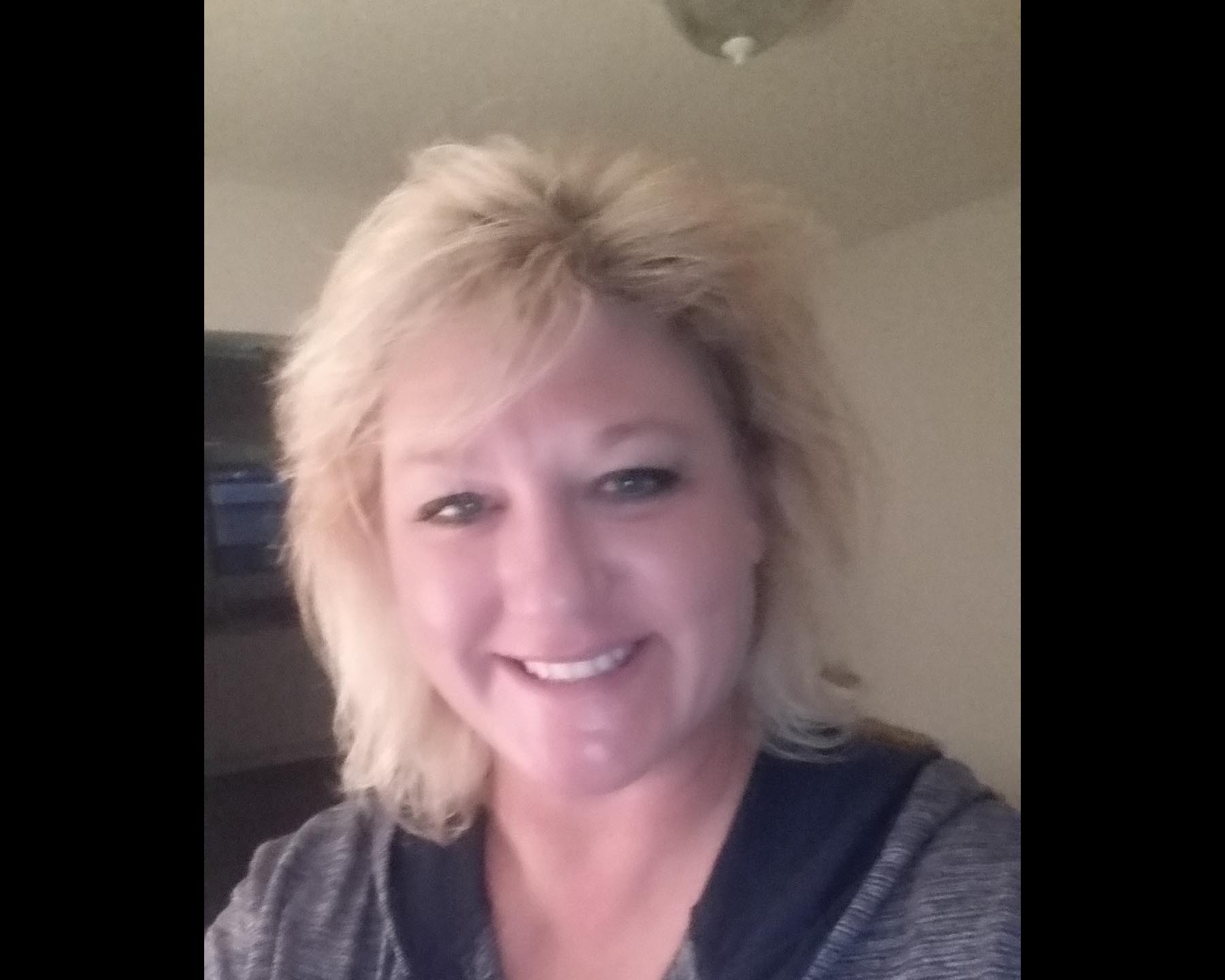 Shawn Dannen
Customer Support
Shawn has been a part of the iPoint Solutions Family since its inception in 2012. She was the Office Manager for Home Connections KC, working with Carmi and Brooks. She was there when the dream for an integrative business management software originated. She has been a huge support since the begining of iPoint Solutions. Shawn is the fun and humor in the iPoint Solutions family and provides support to our community. You may not hear from her often, but she's working in the background keeping business running smoothly for all us!
Kimberly Beer
Marketing Consultant
Kimberly Beer is a national speaker and advocate for entrepreneurship and small business marketing. Her mission is to inspire and educate entrepreneurs to create results-oriented marketing tactics that will carry their business to the next level. Kim's seminars on entrepreneurial strategy and marketing are honest, enlightening and packed with great action steps and technical instruction garnered from over 25 years of experience. Kim is also an award wining writer, graphic designer and photographer and was named an Inspirational Influencer by the International Association of Women in 2018 for her work empowering female entrepreneurs. Kim is a ranch owner and horsewoman.
Dr. Lisa Busko
DVM
A graduate of Colorado State University with a B.A. in Economics in 1986. Graduated Colorado State University College of Veterinary Medicine and Biomedical Sciences in 2003 Certified in Veterinary Acupuncture in 2004 with the Colorado Veterinary Medical Association, attended Medical Acupuncture for Veterinarians at Colorado State University in Ft. Collins, Colorado Certified in Veterinary Chiropractic in 2007 with the International Veterinary Chiropractic Association, attended Options for Animals College of Animal Chiropractic in Wellsville, Kansas Chiropractic Instructor at Options for Animals since 2007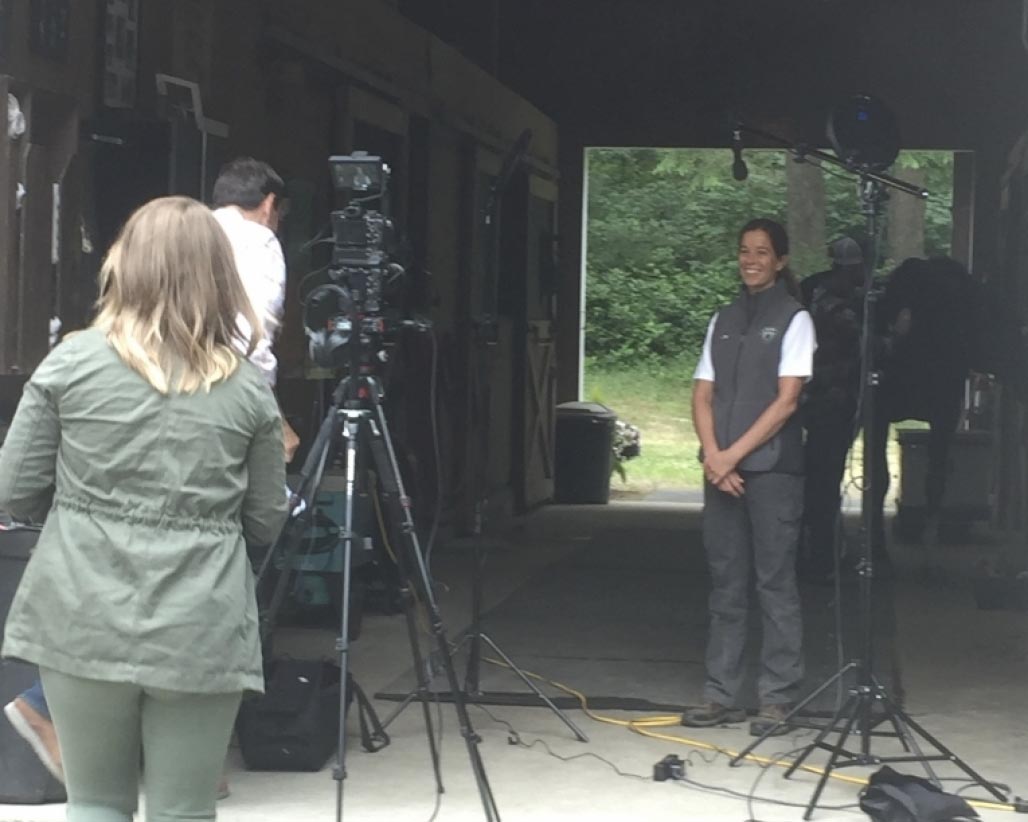 Kim Bauer
CAAP LAMP SAMP
Kim Bauer is a well-known expert and educator in the field of Animal Acupressure and Massage. Kim began her coursework in Animal Acupressure and Traditional Chinese Medicine in 1999 and is highly regarded in the U.S. and internationally. In January of 2005 Kim created her business, Animal Ease Therapies, LLC. She creates individualized, integrated bodywork sessions for each animal that combines her knowledge of Acupressure, Massage and Temperament Typing. Over the years Kim has accumulated numerous certifications for course work that can be seen on her website. http://www.animaleasetherapies.com/credentials.html). Also in 2005, Kim was able to continue her teaching career by taking on the position of Lead Instructor for Tallgrass Animal Acupressure Institute. She spent the next 10 years traveling all over the U.S., Canada, Australia and the U.K. teaching acupressure classes. Additionally Kim began teaching Large and Small Animal Massage courses for the Northwest School of Animal Massage (NWSAM) in the Fall of 2005. Kim also holds a Bachelor of Arts in Philosophy and a Master of Arts in Teaching.
Maureen Rogers
"Maureen Rogers" is a pioneer and leading expert in the field of Equine CranioSacral therapy work. She is the founder of Equine CranioSacral Workshops – an international education program that offers the most extensive program of study.
Maureen travels internationally to teach, lecture and provide private consultations. She works with horses from all disciplines. This includes competitive horses: Grand Prix show jumpers, to Olympic athletes through to novice, dressage, eventers, hunter/jumpers, racehorses, barrel racers, and pleasure horses. She works in conjunction with veterinarians (both allopathic and alternative), equine dentists, trainers, physiotherapists, farriers, professional riders and horse owners world wide who seek out Ms. Rogers for her expertise.
Ms. Rogers founded Equine CranioSacral Workshops in 1999 and has over fifteen years of teaching experience. Her foundation was as a massage therapist, with an extensive education in craniosacral work for humans. She has completed studies and assisted teaching in Visionary CranioSacral Work with Hugh Milne and The Milne Institute. She is a graduate of the Utah College of Massage Therapy. 
Maureen's pioneering efforts have opened doors and changed lives for horses around the world – especially horses with headshaking syndrome.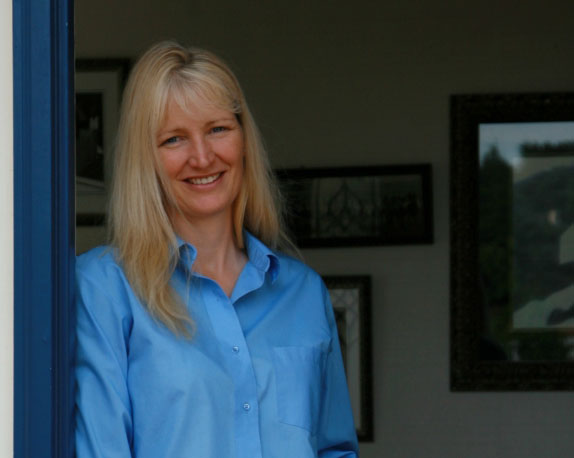 Lola Michelin,
LMP LAMP SAMP, Founder of NWSAM, Director of Education
Lola Michelin founded the Northwest School of Animal Massage in 2001. She has practiced animal massage for over 30 years and massage for people for 17 of those years. A graduate of the Animal Science program at Michigan State University, she has work experience in both the veterinarian and zoological fields. Currently, Lola maintains a private practice for horses, dogs and people in Seattle, in addition to teaching and curriculum development. She speaks and writes regularly on the topic of animal massage and is active in promoting standards of practice and legislation for the industry. Her interests include equestrian competition, rowing and sustainable farming. Her work has been featured in numerous magazines and she appears on television and radio as an advocate for animal therapies. She is: Director and Founder of the Northwest School of Animal Massage, Chairman of the Washington Animal Massage Association, 2000-2004, and Founding Board Member, National Board of Certification for Animal Acupressure and Massage 2011-present.
Seeing Is Believing!
Take the First Step Today.
We are here to help and understand the solutions you need to build the business you want.
Schedule a free session to discuss the areas most challenging in your practice so we can offer solutions.